Published by – Bk Ganapati
Category - Software & Subcategory - Search Engines
Summary - Top search engines on internet / world wide web
Who can see this article:- All
Your last visit to this page was @ 2018-04-03 09:25:00
Create/ Participate in Quiz Test
See results
Show/ Hide Table of Content of This Article
See All pages in a SinglePage View
A

Article Rating

Participate in Rating,

See Result

Achieved( Rate%:- NA, Grade:- -- )
B
Quiz( Create, Edit, Delete )

Participate in Quiz,

See Result

Created/ Edited Time:- 21-11-2017 13:49:24
C
Survey( Create, Edit, Delete)
Participate in Survey, See Result
Created Time:-
D
| Page No | Photo | Page Name | Count of Characters | Date of Last Creation/Edit |
| --- | --- | --- | --- | --- |
| 1 | | Search engines | 12188 | 2017-11-21 13:49:24 |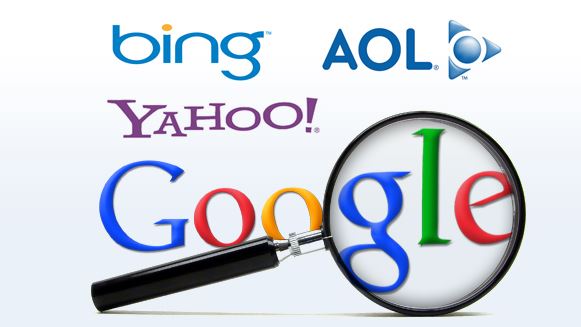 Details ( Page:- Search engines )
List of Best Search Engines
These search engines are mostly used by internet users. We have listed some of the best search engines. The king of the ring is Google as usual. 
We mostly use Google but also see others for your knowledge & requirement, if any. We have not maintained exact market share & chronological rating for preparing this list. But all of them are market leaders & Google is the king.
Google.com –
Founder -  Larry Page, Sergey Brin

   ( Founded  - 4 September 1998 )
HQ Location – Mountain View, California, USA
Technology - C, C++, Go, Java, Python, JavaScript
Google is the king of search engine market with approx. 80% market share.Google has many special features to help you find exactly what you're looking for.
They are outstanding services for locating photos, geographic directions, and news headlines. Google can track users & their activity online.
Bing.com –
 Founder - Microsoft Corporation( June 1 , 2009 )  
HQ Location  -  Bellevue, Washington, USA
Technology – Asp.net, Java Script
It is second most popular search engine as on date.
It is helpful to digital marketer using advanced search operators. Returns search results that have links to the file types that you specify. Bing tries to support your researching by offering suggestions in the leftmost column, while also giving you various search options across the top of the screen.
Yahoo! Search (webopedia.com ) 
Creator -  Yahoo ( Founded - March 2, 1995) 
HQ Location  -  Carlifornia, USA
Yahoo is into several thing such as a search engine, a news aggregator, a shopping center, an emailbox, a travel directory, a horoscope and games center.
Yahoo! Search is a web search engine owned by Yahoo. 
As of February 2015, it is the third largest search engine in the US.
Duck Duck Go Search –(  https://duckduckgo.com )
 Founder -Gabriel Weinberg, ( Founded 2008 )  
HQ Location  -  Paoli, Pennsylvania, USA
Technology - Perl, JavaScript, Python
DuckDuckGo (DDG) is an Internet search engine that emphasizes protecting

searchers' privacy

and avoiding the filter bubble of personalized search results. If you're concerned about search privacy, then use DuckDuckGo.
Dogpile.com
 Founder -  Aaron Flin ( Founded November 1995)  
HQ Location  -   USA
Dogpile is a metasearch engine for information on the World Wide Web that fetches results from Google, Yahoo!, and Yandex, and includes results from several other popular search engines, including those from audio and video content providers. Try this search tool with pleasant presentation and helpful crosslink results.
Yippy.com
Creator -  Carnegie Mellon University Researchers ( Founded - 2009 ) 
Owned by Vivisimo / IBM
HQ Location  -   USA
This is a Deep Web engine that searches other search engines because Deep Web pages are usually harder to locate by conventional search.
Yippy helps for searching for obscure hobby interest blogs, obscure government information, tough-to-find obscure news, academic research and otherwise-obscure content for you.
Google scholar (scholar.google.com)
Creator -  Google ( Founded - November 20, 2004 )
HQ Location  -   USA
Google Scholar is a freely accessible web search engine that indexes the full text or metadata of scholarly literature across an array of publishing formats and disciplines.
Google Scholar is a special version of Google.
Google Scholar focuses on scientific and hard-research academic material that has been subjected to scrutiny by scientists and scholars.
If you are looking for serious information then forget regular Google & try google scholar.
Webopedia Search (webopedia.com )
Owner - QuinStreet Enterprises ( 
Founded - 1996 )
Office - California, USA
Webopedia is an online dictionary and Internet search engine for information technology and computing definitions.
Webopedia is absolutely a perfect resource for non-technical people to make more sense of the computers around them.
Ask.com
Creator -  Garrett Gruener; David Warthen  ( Founded - June 1996)
HQ Location  -  Carlifornia, USA
Ask.com is a question answering-focused e-business and web search engine.ASK is based on a question/answer format where most questions are answered by other users or are in the form of polls.
AOL.com
Creator -  G
Steve Case, Jim Kimsey, Marc Seriff, William von Meister
Founded - 24 May 1985
HQ Location  -  Newyork, USA
AOL is the go-to destination for the latest stories shaping the world and impacting everyone.
The AOL network includes many popular web sites like engadget.com, techchrunch.com and the huffingtonpost.com.
Baidu.com
Creator -  Robin Li, Eric Xu
Founded - 1 January 2000
HQ Location  -  Beijing, China
Baidu is a Chinese web services company headquartered at the Baidu Campus in Beijing's Haidian District. It is one of the largest internet companies, and one of the premier AI leaders in the world.
As on date , Baidu is the world's eighth-largest internet company by revenue. It's market share is increasing steadily and according to Wikipedia, Baidu is serving more than billion of search queries per month.
Wolfram Alpha
Creator -  Wolfram Research
Founded - May 15, 2009
Technology - Wolfram Language
HQ Location  -  USA
Wolframalpha is different that all the other search engines.
It gives you access to the world's facts and data and calculates answers across a range of topics. It works on question & answer pattern in a computable format with some assumptions.
Internet Archive (archive.org)
Chairperson -  Brewster Kahle
Founded - May 1996
HQ Location  -  Carlifornia, USA
The Internet Archive is a San Francisco–based nonprofit digital library with the stated mission of "universal access to all knowledge.
Internet Archive is a non-profit digital library offering free universal access to books, movies & music, as well as 308 billion archived web pages.
You can use it to find out how a web site looked since a number of years ago such as from 1996. It is very useful tool if you want to trace the history of a domain and examine how it has changed over the years.
CrunchBase.com
Founder -  Michael Arrington
Founded – 'July 2007
HQ Location  - USA
Crunchbase is the destination for discovering industry trends, investments, and news about hundreds of thousands of public and private companies globally.
From startups to Fortune 500s, Crunchbase provides a business information platform that pairs powerful tools and applications to stay competitive and successful.
CC Search (search.creativecommons.org)
Founder -  Lawrence Lessig, Hal Abelson, and Eric Eldred (
Founded – ' 2001
HQ Location  - USA
If you're looking for media in the public domain, then you need CC Search. Creative Commons (CC) is an American non-profit organization devoted to expanding the range of creative works available for others to build upon legally and to share. The organization has released several copyright-licenses known as Creative Commons licenses free of charge to the public. Creative Commons is the global community that breaks down the walls that keep people from sharing their knowledge.
SocialMention.com
Founded – ' 2012
HQ Location  - France
It helps you to aggregate real-time social media search and analysis.
Yandex.com
Founder -  Arkady Volozh, Ilya Segalovich, Elena Kolmanovskaya
Founded – ' 1997
HQ Location  - Russia
Yandex is a Russian multinational technology company specializing in Internet-related services and products. It is Russia's biggest technology company. Yandex operates the largest search engine in Russia with about 65% market share in that country. It also provides services like Yandex Maps, Yandex Music, online translator, Yandex Money and many other services.
LYCOS.com
Founder -  Michael Loren Mauldin
Founded – ' 1994
HQ Location  - Massachusetts, United States
Lycos, Inc., is a web search engine and web portal established in 1994, by it's founder, while working in Carnegie Mellon University. Lycos serves other services such as  network of email, webhosting, social networking, and entertainment websites.
msxml.excite.com
Founder -  Joe Kraus, Graham Spencer
Founded – ' Dec. 1995
HQ Location  - United States
Excite's portal and services are owned by Excite Networks, but in the United States, Excite is a personal portal, called My Excite, which is operated by Mindspark and owned by IAC Search and Media.
Excite.com is a collection of web sites and services, offering a variety of content, including an Internet portal showing news and weather etc. (outside United States only), a metasearch engine, a web-based email, instant messaging, stock quotes,

and a customizable user homepage.

The content is collated from over 100 different sources.
Some of the well known search engines of yesteryear/s has been acquired by others ( example Altavista ) or, shutdown  and some of the existing will either lost their ground to others or, shutdown due to any reason. But, we hope Google , Bing & yahoo will continue their journey for long time to come.